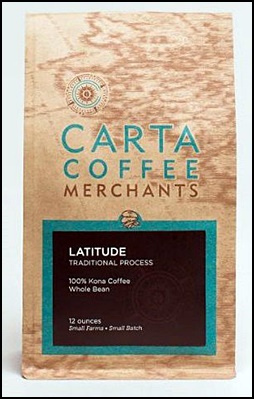 This expression is processed in the "wet" method, which is the mechanical extraction of the bean from the cherry and washing. Founder Scott is calling this "Traditional Process" because this tends to be the more traditionally used drying methods in the Kona region. A believer in conserving both water and flavor, Scott is using a process that uses the minimum amount of water needed to remove and cleanse the beans, without stripping desired flavors.
This method tends to produce coffee with clean, bright, with distinct citrus notes.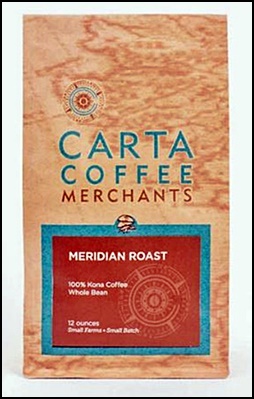 100% Kona Coffee. Carta Coffee's latest release, the Meridian Roast is the lightest blend in the portfolio: a blend of small batches and unique lots from Carta's own Nolyssa Farm and likeminded small Kona farms, using both natural and traditional drying techniques.
Lovers of a lighter, yet complex roast will be delighted with Meridian. What to expect? Notes of citrus flower and fruit give this expression bright acidity tempered by the deeper, earthier nuances of hazelnut, dark chocolate and subtle smoke. Slightly sweet and creamy in texture.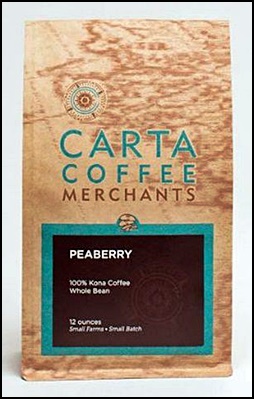 100% Kona Coffee. A peaberry is a very special occurrence in coffee production. Typically, a coffee cherry bears a flat-sided pair of beans. But in about 3-5% of cherries, those beans meld together to form a single rounded bean called a peaberry or 'caracol', 'perla' and 'perle'. The coffee produced from peaberries is often a bit richer, more complex and fuller-bodied in flavor. Carta is thrilled to be able to include Kona Peaberry among its first offerings. A blend of natural, traditional from Nolyssa and small partner farms. Peaberry tends to be vibrant, bright and sweet - complex notes of citrus blossoms, roasted almonds, caramel and honey.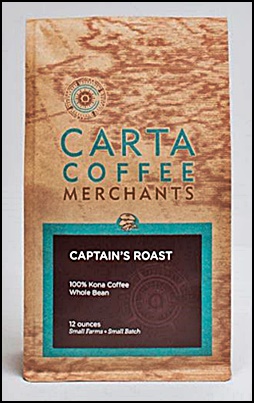 Captain's Roast is founder Scott Burr's first signature roast, created using a deeper roasting technique to produce the rich, dark, slightly smoky cup of joe that Scott personally loves to kickstart his day! A blend of small batches and unique lots from Nolyssa Farm and partner Kona farms, using both natural and traditional drying processes.
As a mash-up of processes and sources, the Captain's Roast is a complete and delicious surprise: a balance of smooth sweetness of the natural process and clean citrus highlights from the traditional approach, presented in a deep, rich roast. We're excited!